Aftershoot Review for photographers
As a professional wedding photographer, I understand the importance of capturing the perfect shot. However, the work doesn't end there. Especially for "over-shooters" such as myself! Post-processing is an integral part of the process that brings out the full potential of the images captured, but to get there we often spend HOURS just sitting still at a computer, culling images which don't reach our rigorous quality control standards...This is probably the only part of being a photographer that I hate.
In this article, I'll discuss the importance of Aftershoot, a service that can elevate your entire photography workflow to new heights using advanced AI to cull images for you. It can detect not only blurry images, eyes being closed and poor exposure but it also detects emotion.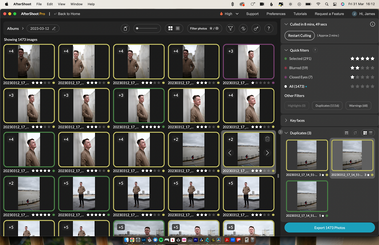 Aftershoot is an advanced ai image culling service that is designed to save photographers hours of time.
With Aftershoot you can either import directly from your cameras memory cards or from a folder on a hard drive. As I like to import all images into Lightroom first, I direct Aftershoot to the SSD folder. From there, it rates images using different star and colour ratings. Once the short process has finished I open up Adobe Lightroom again and update Meta for all files. By outsourcing your culling to Aftershoot, you can save time and focus on other aspects of your photography business.
The success of your photography business relies heavily on the quality of your images. Aftershoot, a culling application, ensures that your photos are meticulously selected.
A significant benefit of using Aftershoot is the time-saving aspect. Image culling can be labor-intensive, particularly when dealing with a large volume of images. By delegating this task to Aftershoot, you can allocate more time to other crucial aspects of your business. Such as reels.....no? Yea I know what you mean!
Additionally, Aftershoot is one subcription, with no extra charges.
How Does Aftershoot Work?
Getting started with Aftershoot is easy. Simply sign up for an account on their website and download the correct application for your Machine....You have 3 options, intel mac, M1 mac and also windows to choose from.

Once your images have been imported, Aftershoot will assign meta data files next to your images in the original folder which can be read by editing applications such as Adobe Lightroom.
Aftershoot Review and Discount Code
I've used Aftershoot for a about 70 different weddings and have been consistently impressed with it. They've also even introduced spray can mode where you can fine tune the cull inside the app. Doing it this way, Aftershoot actually learns from your style.

As a special offer, I've also secured a discount code for Aftershoot. Use the link https://aftershoot.com/get-started/?referrer=CPFQ9ZZ7 or the code "CPFQ9ZZ7" at checkout to receive 10% off your subsciption.